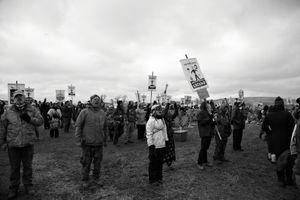 It's one thing to talk about the issues, but what can we actually do?
Here are some ways to make a real-word impact. 
 
Listen
If you are drawn to a particular struggle, start looking up the grassroots leaders in a particular movement. If you want to support a person or a group, listening to community leaders will help to guide your actions.
Educate Yourself
One of the best ways to understand an issue is to search for resources that will give you a better understanding of what is going on. Listening to grassroots leaders via podcasts, reading books, taking courses and following them on social media are some good places to start. Explore all of society's institutions and historical factors to get a well rounded idea of how the system works and the ways in which they contribute to the problems of today.
Join a Local Group
One of the best ways to get involved is to find a local organization that is doing work that you are interested in. Once you have joined a group, you will meet more people in your community who can help get organized for change.
Donate Money or Time
If you have the time and/or money, volunteering and donating can be a great way to help others in need. If you know of any other organizations that you would like to see listed, please email us at resist [at] imperialashes.com
Toronto Homeless Memorial –  Grocery gift cards for their lunch outreach programs are always appreciated
Encampment Support Network Toronto (ESN) – Please email them report.on.toronto@gmail.com for ways that you can help
Toronto Overdose Prevention Society - please consider donating to their gofundme page.
Native Women's Resource Centre of Toronto provides a safe and welcoming environment for all Aboriginal women and their children in the Greater Toronto Area.
The 519 is a great community resource with several programs that deliver essential services every day serving takeaway meals, checking in on our communities, providing information and referrals, and providing critical services for LGBTQ2S communities including youth, seniors, and newcomers.
Journey Home Hospice provides people experiencing homelessness with high quality health care services and a safe, welcoming and caring environment for their end-of-life journey. A place based in the community, for the community.
Across Boundaries aims to provide equitable, inclusive and holistic mental health and addiction services for racialized communities within an anti-racism, anti-Black racism and anti-oppression frameworks
Make Music Matter uses the creative process as a therapeutic tool to help empower marginalized individuals and communities. The program brings together trauma survivors with a trained psychologist and music producer to write, record, and professionally produce songs about their emotions and experience
True North Aid is dedicated to serving and supporting northern Indigenous communities in Canada through practical humanitarian support.
Unis'ot'en Camp: Join the Wet'suwet'en people in their struggle for their land back, donate here.
Tiny House Warriors – help in the fight to stop the TransMountain pipeline from crossing unceded Secwepemc territory
Petitions
These are a great way to compile signatures to present to various people and groups to show what issues are important in our community. Here is an example of a petition started by the Shelter and Housing Justice Network that garnered over 51,000 signatures to declare homelessness and emergency in Toronto. Change.org is a great place to start.
Contact Politicians
Elected officials need to know what issues are important to members of their communities. Please take the time to call, email or write to your federal, provincial and municipal politicians. Here are some quick links to find out who represents you:
To find out who your municipal (Toronto) councillor is, click here
To find out who your provincial (Ontario) MPP is, click here
To find out who your federal (Canada) MP is, click here
Public Demonstrations
This is a great way to get organized and voice your objections to the many injustices happening around us. There are many different reasons why people take to the streets. Public displays of dissent can offer advocacy and bring attention to issues. They offer those involved a support system. Additionally, people may organize in order to counter-demonstrate groups who are the oppressors. This article offers some good resources and further explanations
Spread the Word
If you read any information in academia or in the media, share it with your friends and family. This can be done via blogs, YouTube, Facebook, Twitter, or any other social media sites. Get the conversation started and keep up the resistance!
Email/Phone Zaps
This is when a bunch of people get together to phone and email people like City councillors, provincial MPP's, landlords, corporations or whoever else might be relevant to a specific issue. Usually these will run over the course of an hour, but you can always set your own pace. The goal is to send as many emails and phone calls as you can. This can be run by a local organization, or you can start one yourself with your friends. Establish what issue you want to address, and before you start, make sure to write out an email and phone script for people to read from. While many politicians may not read every email we send, some do record how many phone calls and emails they get regarding a specific issue. And if you do get someone on the phone then that's a great way to get that direct conversation started!
Banner Drops
First you need to decide where you will be doing your banner drop. Typically, these are done at protests, outside government buildings, highway overpasses, bridges and balconies. When making the banner you'll need a large space. Make sure to use some good material especially if the banner is going to be outside, subjected to the elements. Write out your statement first on some paper so you have a better idea of letter spacing. And be sure to put loops at the end of the banner to place poles for you to carry if you're at a rally. Get lots of footage of making it, and of the drop itself and add that to your socials. So have it be bold, easy to read and have your message stand out!